I'd like to start off by saying how great it is to have a blog that people are genuinely interested in. Although this might not be the most organized, well written insightful piece of internet literature, I think that by forming a community where people can be informed on what's happening is important. So thank you, if you're reading, commenting, or posting, because this could not be happening without you!
Every time i ask someone to read the blog, I keep receiving the same answer. "Why would i read you're blog, when you're not writing anything for it?" And i couldn't agree with that sentiment more, So i'll try my best to write more instead of listing fun name generator websites.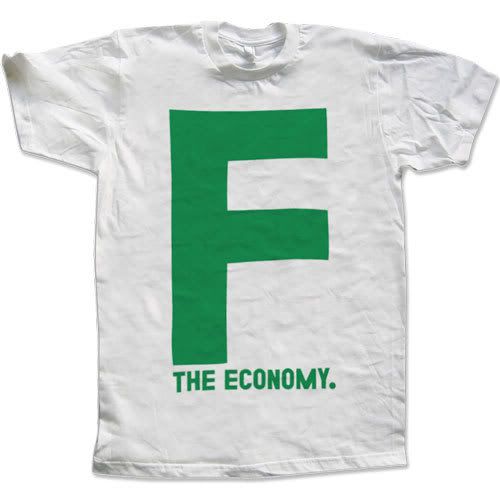 Everyone knows that our economy is in a horrible free fall. Everyday, we turn on our televisions, newspapers, or google searches to find out how much money the stock market is losing, or how many people are being laid off from their jobs. Our generation is well acquainted with this type of media onslaught, however, compared to the war coverage we have become desensitized to, the economic crisis is effecting each one of us directly. These past couple of years have been tough for me personally, and although sometimes I think a light is close to the end of the tunnel, I unfortunately have realized that i won't be seeing it soon. I, like, millions of Americans are waking up to the horrible reality that this country is facing. No longer is it the "Average American" who is being thrown into the American washing machine of turmoil but people close to me, who i never thought would be effected. I was fortunate to grow up in a wealthy area where the only reason someone lost their job was to leave the one they were at to receive a higher salary. So, maybe this comes as a surprise to me because i haven't been surrounded by job loss or poverty, but this situation is frighting and it seems as if it's not going to get better for some time. I'm not implying that we're all going to be living on food-stamps and that all the women in our lives are going to have to resort to selling their bodies for Ritz crackers and M&M's. Barack Obama is not the messiah, and it's going to take struggle and persistence to make it through the next months, and even years.
Now being involved with a blog, WILL NOT help the economy. However, that does not mean you shouldn't participate in one. What I'm asking from you is to post ideas, stories, or plans that might help someone who is also going through these hard times cope a little better. A cheap restaurant, an idea for a date, a community gathering, anything that doesn't cost much, to provide some form of "time-off" from hardships someone somewhere might be facing. Some critics might say that this may be the problem. We as a people have spent too much time trying to find forms of escape that we haven't stayed still long enough to see what's truly going on in our country. This may be correct, but participation in some sort of community can provide therapeutic results. This may or may not work, but why not be apart of something special where you can feel a sense of aide or assistance to someone you don't know.
Again, thank you for taking the time to read that. I'll be posting stories and events that you may find entertaining to get you through whatever you're going through, whether that may having to do with this shitty economic situation.
You can buy that t-shirt
Here
Peace, love, and Barack Obama,
-sam
Are you reading this and want to post? Leave you're email address in the comments and you're instantly added to the contributors list.