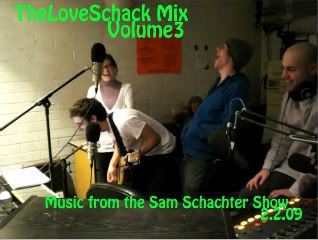 http://www.sendspace.com/file/kybdqd
A wolf at the door- Radiohead
Sure Shot- Beastie Boys
If I could make you do things- Two Tongues
Apple Orchard- Beach House
Family Tree- TV On The Radio
My girls- Animal Collective
Love Song (The Cure Cover)- Death Cab For Cutie
Ay Man- Pharrell ft. Lil Wayne
Transmission (joy division cover)- Hot Chip
If you listen to the show, you know what this is about, if not I'll give you a brief description. I have a radio show, where i play music and talk bullshit. This is the music that was played on the show.
Monday night's @ 10pm/www.purchaseradio.org
If you like the music, listen to the show. I'll be posting a new mix every week.
Also, Brendan's notes will be featured soon (whenever he emails them to me), so watch out!