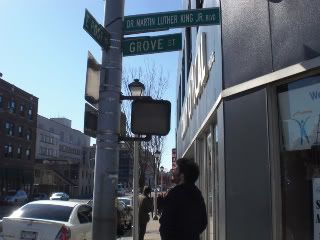 This week the breakfast club ventured to one of the classiest breakfast joints in the tri-state area, to a little place called The Star Diner. Located on 66 East Post Road, White Plains, New York. Star is literally the size of a train car. It's maximum capacity holds approximately 40 people, who might all be anorexic. Although a great place to grab a cheap bite, the diner is located in a neighborhood where what some people might classify as the "hood". If it's one in the morning or one in the afternoon, you can always count on the Star to deliver a delicious, greasy, hot meal.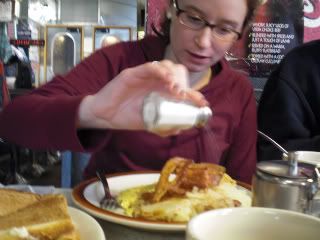 Blythe:
let's face it: we all knew we were going to be satisfied with the star from the beginning. small, hot, dirty - this place is everything you can ask for in a diner. for my breakfast, i got 2 eggs scrambled, toast, homefries, and bacon. for just 5.50, i dined like a queen. on to the ratings...

1. service - as always, A
2. food - good, but i'm still sweating out the grease, B+
3. atmosphere - full of the best and worst of white plains, always an interesting environment, A
Frank:
The Star Diner is a staple for any person living near the White Plains area. I've usually reserved the Star Diner for late night, most likely intoxicated meals, but this Sunday morning breakfast was more than I could ask for. I ordered Two Eggs (over easy) with Canadian Bacon, but truthfully I probably could have ordered anything and I would of liked it, that's just the type of place the Star Diner is. It is a tiny, cramped, personal restaurant where you literally hear the waiters yell your order to the cook who is standing just on the other end of the counter. The food always comes up fast, hot, and delicious. If your looking for a great breakfast either before or after you actually sleep, then the Star Diner comes highly recommended.
Rob:
My first daylight trip to the Star. What craziness! Usually I go for a short stack or a burger deluxe, but this time around, I was feeling saucy, so I ordered the corned beef hash: a healthy portion topped over-easy and a shire of homefries and white toast. The coffee presidential, the toast just toast. Stellar homefries seasoned to perfection. Entreé superb: the salty beef, the dripping egg... ahh... no words...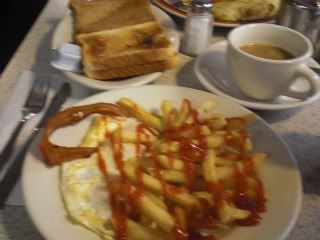 Sam:
I just want to start off by saying that being from New Jersey, I strongly believe I am one to critique. I've been to the Star about 5 times already this semester and have yet to be let down. This time I got coffee, my usual 2 eggs over easy with french fries and a charity piece of bacon from Blythe. Although the meal was nothing out of the ordinary, the meal was out of this world. We received great service from our Spanish speaking waitress, I even attempted to speak Spanish to the waitress but thought I would save myself the embarrassment for next time. Everything was cozy and enjoyable and when you only have to wait 5 minutes for your meal, you know this place is doing it's job right. Overall A
Keep showing us some love, follow the blog, leave a comment or write for this goddamn thing. Until next week.
THE BREAKfast KLUB