One of the greatest things about going to Purchase College is being surrounded by creative people all of the time. If it's music, performance, or artwork, one can always expect the person sitting next to you might be the coolest person you have never ever met. A friend, fellow student, and artist, Spencer Alexander is one of those students. Along with Spencer, Alex Derwick, and Manuel Bova opened an art exhibition entitled "Tabula Rasa", which began on Friday March sixth in the Visual Arts building (1019a). Although I wasn't able to attend the opening due to a previously booked event, I heard wonderful things. I did have a chance to check out the space today, and highly suggest it to anyone who has ever picked up a crayon. Don't believe me? Check out these hot pics.
(All photos, by Kellyann Petry)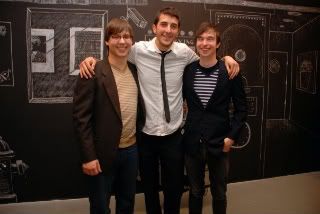 The artists (from left to right)
Alex, Spencer, Manuel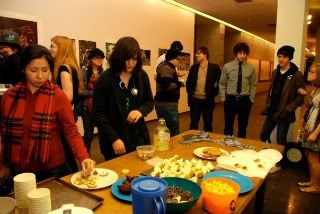 Q: What's an art exhibition opening without food?
A: A pretty lame time.
I am by no means an expert on art or know how to properly critique it. However, I did enjoy this exhibition tremendously and I believe these type of art shows are where the art world is heading towards in the future. Although the space is about fifty square feet, the viewer is never kept at a visual standstill. The room is decorated with chalk outlined store fronts on a black painted wall canvas. In front of the chalked representations are cardboard cutouts attached to the ceilings. The cutouts are all highly detailed and distinguished characters, made from spray paint and stencils. Not only were there great visuals, but the exhibit also had a soundtrack. Recorded in Port Chester, the recording is an audio snippet of the noise one would here while walking around a city, with some surprise sounds involved. Here are some more pictures from the opening: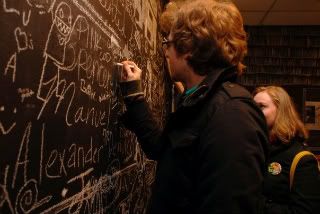 On the back wall is a place where the viewer can sign their name, make a wish, or draw profanity, like this kid was obviously doing.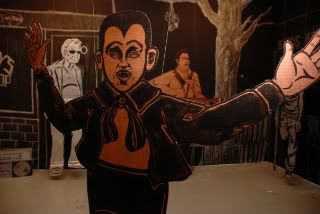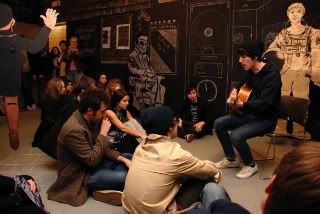 Even Nick Corbo played! Listen to his music
Here
If you're thinking to yourself, "well he's just doing this because he's friends with these dudes." Don't believe yourself. I'm not gaining anything from doing this, just the feeling of promoting great work. These artists are consistently creating great images and are always keeping me on my artistic heels. I'm calling it now, but I believe that this is the future of art!
Please check they're personal sites below:
You can find Alex's artwork
Here
Spencer's
Here
Tell Manuel to get himself a website
Here
love always,