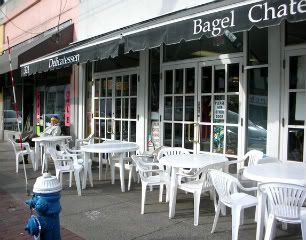 This week is the special SPRING BREAK EDITION of The Breakfast Club. How exotic, right? Not really. I came back home to Millburn New Jersey for a couple of days and happened to get breakfast with my Mom and Brother. I chose to pick the "breakfast hot-spot" in my town called, The Bagel Chateau. *Before I let the reviews roll, I'll give you a small background behind the chateau of bagels. When I was in High School, this was where most people went for lunch during senior lunch break or a half-a-day. Oh half-a-day's how I miss thee. But seriously, for some people, they consider this the mecca of breakfast and lunch food. Why? Well because it's a almost like "The Wiz" from Saved By The Bell where everyone goes either to be seen or to enjoy an overpriced meal bagel or breakfast.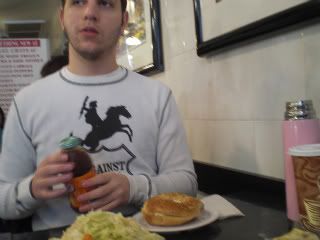 Ben:
I went to one of Millburn New Jersey's better established delis which is located downtown Millburn. I have been a loyal patron there for years, filling my need for fresh, great quality bagels. I paid $6+ for a everything bagel and a peach Snapple. I know times are hard and small businesses need every penny they can get. The quality was still the same which I have grown to love. But six bucks and change is a little too expensive for my blood.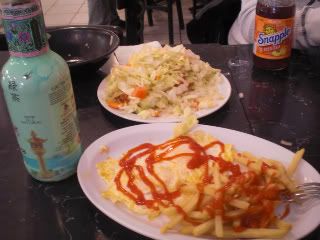 Sam:
Although we arrived around one thirty in the afternoon, the BC was relatively busy. It was a difficult task to find a comfortable place for three people to sit down. I ordered my usual two eggs over easy and french fries* with an ARIZONA ICED GREEN TEA, the total price came to about 7.58 or something close. Which according my math is a bit pricey. The food arrived within in five minutes, I splattered my ketchup explosion on the food and was ready to devour. For around eight dollars I expect a dish with either really large eggs, or french fries to be overflowing from the sides of the plate. Neither circumstance occurred. The eggs tasted as if they were covered in a windbreaker of butter. Not that It prevented me from eating them, but just enough butter that I could taste the margarine night club in my mouth. Before I knew it, my meal was gone and I didn't feel as satisfied as I have in the past. Overall, I suggest this restaurant if you're in the town of Millburn and want to see girls in those black spandex pants, listen to a noisy room, or observe how wealthy people eat. If you're into those things please attend, If not, go to Morris Turnpike and stop in at Bagels 4 U.
*Apparently this meal, huevos estrellados is very popular in Spain. I think i'd fit in there very well.

Food: C
Service: B
Atmosphere: B-
Overall: B-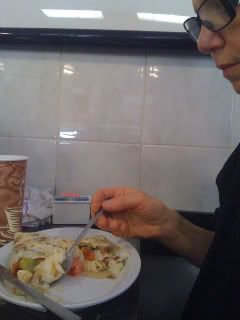 Gaylee (Mom)
Yesterday I went to Breakfast (Sunday) with two very special dates. They wanted to have bagels, so off to the Bagel Chateau in Millburn we went. Small family kind of place. The restaurant is self service, you give them the order they give you the plate. I am not a Bagel eater (carbs and all that) so I decided on my favorite dish, the Egg White Veggie Omelet. Prepared right in front of you, it comes in a generous size, filled with onions, tomatoes, and mushrooms. It was very good. I would even rate it a l0, juicy crunchy on the inside. The price is however, is another question, I thought it was extremely high. I believe it was ten or eleven dollars. IT MUST BE BECAUSE IT IS MILLBURN N.J.
Stay tuned soon for the Montreal edition of The Breakfast Club. Coming Up soooooon.