Sorry about the delay, but we've been waiting to bring you our smartest and most intriguing critiques of the snaziest breakfast joints around. This week the crew visited
What A Bagel Cafe
. The bagel spot is located on 476 Mamaroneck avenue in White Plains, New York.
Blythe: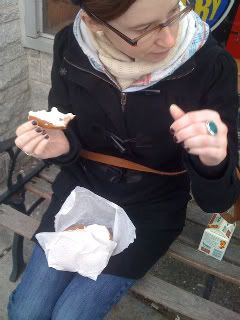 what-a-bagel?!?! more like what-a-bummer!

due to our late start sunday morning, we arrived at this mamaroneck joint right before closing. for that reason, the cafe/convenience store, stocked with twinkies and little debbies in the refrigerated display case, had very limited bagel choices: blueberry, rye, honey wheat, whole wheat sesame, and, much to my dismay, SUNFLOWER SEED.
for my breakfast, i chose a toasted blueberry bagel with cream cheese. after a few bites, i began to realize that my bagel tasted remarkably similar to a slice of pizza. the bagel being the crust, the blueberries the tomato (a bit of a stretch, i know) and the cream cheese, obviously, being the cheese.

enough rambling, on to the ratings:

service: B-
took forever!

price: D
my bagel was 3 bucks, and frank's was about a thousand.

taste: B
let's face it, it' hard to go wrong with a bagel, but just not great.

overall, i wouldn't recommend this place, especially to those seeking a great bagel. if the owners agreed to pay as much attention to their bagels as they did to their energy drinks and trail mixes, i maybe, MAYBE, would give them another shot.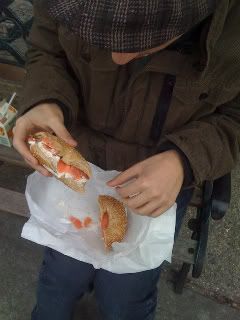 Frank:

What A Bagel! didn't have the best nor the worst bagels i've ever had (starbucks at SUNY Purchase bagels take that prize). I ordered a Bagel with cream cheese and lox which came around to 7 dollars. The food was average at best and the selection was pretty bad. Most of the bagels were gone and the people at the counter felt like they didn't want anything to do with us. I'm usually all for your basic bagel shop, but this one just schmeared me the wrong way (pun intended).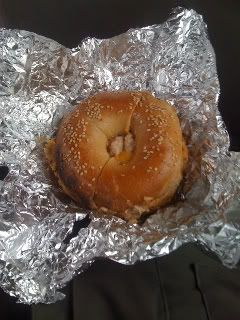 Sam:
Being Jewish comes in handy sometimes, when I'm shopping, when I'm dealing with old women and when I'm at the bagel place. So having the religious pre-requisite to judge a good bagel, please take my criticism seriously. Finding our way to the store was a difficult. Practically, a hole in the wall, What A Bagel doesn't have the proper bagel store front that I expected a good bagel store to have (whatever that means). So, when we finally came into the store at around one o'clock, the store was ready to shut down. Due to the time, the variety of bagel's was not as plentiful as earlier in the day, or so I presume. I ordered the classic Tuna Melt on a whole wheat sesame. I find that this sandwich is a staple in the bagel world. To truly be a great bagel house one must need to get the basics correct. My bagel was warm and toasty and filled the spot, but it was nothing I couldn't make myself. However, I felt that the cheese was a little too sharp and the tuna a little too potent. One other problem I had was not with the bagel itself but with the bagel makers. As a customer, I feel that a major part of a good breakfast experience is service, and this store did not contain an ounce. I understand that the store is about to shut down on a sunday afternoon, but c'mon guys. If I'm going to spend money in your store at least make me feel welcome and i didn't. I apologize for the schvitzing, bubbies.

Bagel B-
Service D
Overall C-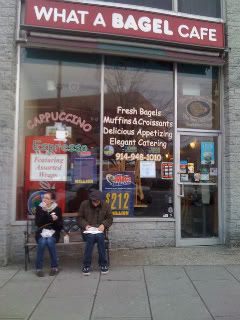 Stay tuned for more breakfast club updates. Would you like to join in our morning expeditions? Leave a comment or send an email to: theloveschack@gmail.com