When thinking of drummers turned front men, few names come to mind. Phil Collins, Levon Helm, and probably the most famous of this generation, the one and only, Dave Grohl. Unfortunately, Sebastien Grainger (ex-Death From Above 1979) has yet to barely hit the drum head of this list of all-star composers. Sebastien along with his backing band, the Mountains filled the opening slot for the beloved Canadian supergroup, Metric at Terminal 5, Wednesday night.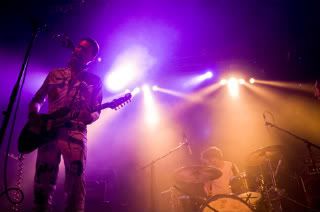 Dressed in a conservative mad scientist costumes, Sebastien and the band ran through a string of heavy distortion tunes that seemed to bleed into one another. A major reason why anyone at the show seemed to pay attention to this band was because of Sebastien's past and now defunct project, DFA1979. The single off Sebastian's self titled album, "Who do we care for?" seemed to be the tune that had the crowd nodding they're heads paying attention to the stage instead of their cell phones. The track which inspired the crowd to actually watch the stage instead of aimlessly gazing at the gigantic disco ball hanging above their heads.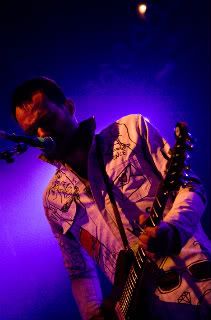 Don't get me wrong, Sebastien's songs are well crafted and diabolical. However, live, the only highlight of the show is watching men dressed up as scientists playing guitars. Something that get's old after the first two or three songs. One can acknoledge his influence of thrash and grungy guitar riffs that were used heavily with DFA1979. What made DFA1979, so special was that there weren't any guitar lines. It was just two Canadian guys with long hair that seemed to be having a great time. Something, we weren't used to.
Who Do We Care For
After realizing that this show was sold out and one that numerous Purchase kids could be found at. (I'm pretty sure I saw the working crew from the bookstore outside.) You know who I'm talking about, the ones who always seem to be a little too lethargic and make it seem that they're always having the worst day of they're lives? After about twenty five minutes waiting around for Metric to set-up. They briskly and athletically performed mostly material from they're new album, "Fantasies" which recently just went gold. "Fantasies", which compared to older albums is more polished and according to Emily Haines, a record about finding a new identity. Seemed to go over well with the New York city audience. I was pleasantly surprised at the crowd's response to the newer material, which was tremendously positive.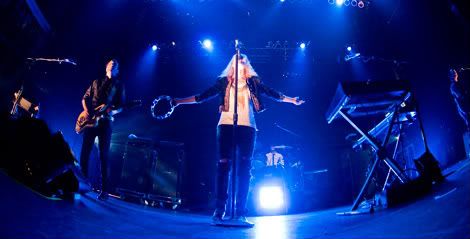 One great aspect of Metric's live performance is they're ability to keep the audience on it's feet and wondering where they're heading next. The band doesn't switch from one song to another and introduce it with a title and the adjacent album that it was featured on. They re-work the songs and change around arrangements which I find highly interesting. Now, you may be thinking why I chose to use the word athletically to describe the set. The singer, Emily Haines has an incredible way of performing that makes her resemble a Pilate instructor after consuming an ice cream cone filled with cocaine.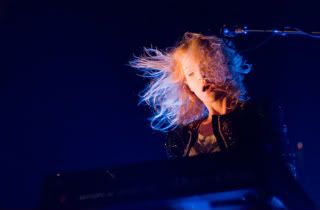 Haines who is never idle for a moment during the show, is on key for every note, never moving off pitch while dancing and working out like she was Jane Fonda. Another highlight of the set was Emily's abstract ramblings about humans at zoo's eating cheeseburgers. I'm not exactly sure what she was talking about but it still provided for a captivating performance by one of today's best rock n roll bands.
Setlist:
Twighlight Galaxy
Help I'm Alive
Satellite Mind
Handshakes
Gimmie Sympathy
Sic Muse
Empty
Front Row
Dead Disco
Stadium Love
Encore
Monster Hospital
Live It Out
All pictures featured were taken by
Bao Nguyen
I could just put a music video, but this may be more insightful.