I won't make this one as long and agonizing as the last review, but I want to let you know how amazing this band is.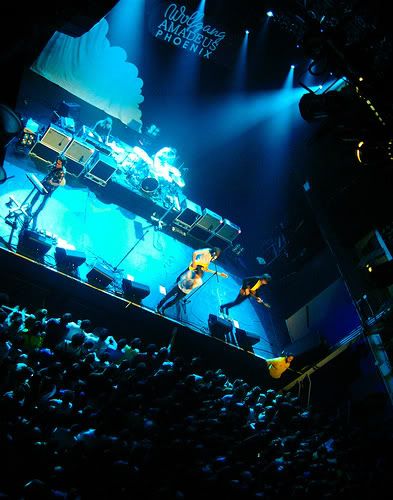 I've been waiting for Phoenix to tour for about two years since I discovered
It's Never Been Like That
used at my local record shop. That album along with they're others are to put it simply, incredible. They're albums that need no skipping and can be played in any mood, temperature, or situation. I'm not sure they're are any bands whose music is able to do that now, or more importantly, ever. I highly recommend, if you haven't already, pick up they're new release called
Wolfgang Amadeus Phoenix
I promise you will not be let down. You can play this record at a party, in the car, or on a rainy day, and it is guaranteed to please.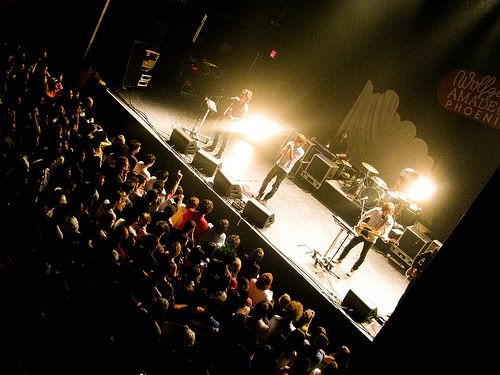 The show on Friday was exactly what I expected. Great sound, great set list, and overall a good crowd. Which, may I add is one of the most difficult things to accomplish at a concert. There aren't many words that I can use to describe the show or this band besides amazing, incredible, terrific, and spectacular. Take that Rolling Stone.
Read a more detailed review
Here
from the show the previous night at The Music Hall Of Williamsburg.
Enjoy these clips from the show last night:
Phoenix- "Too Young" Live @ Terminal 5 from TheLoveSchack on Vimeo.
Phoenix- "1901" Live @ Terminal 5 from TheLoveSchack on Vimeo.
Phoenix- crowd surf @ terminal 5 from TheLoveSchack on Vimeo.
bon appetit.