Last Friday, I needed to go to Romantic Depot to conduct some research. No seriously, I really had to. I'm currently doing a documentary field project on sex stores and needed to take some pictures. So who else would I ask to join me on this wild and crazy sex adventure? I decided to ask the ladies across the hall. After a hard excursion, we decided it would be a great idea to stop at the taco bell in Elmsford New York. Here's what happened: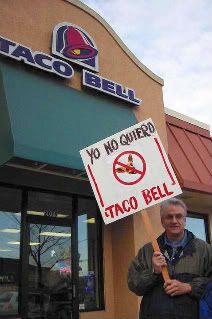 (This is not the actual location)
Kylie:
I said no tomatoes on my Chalupa and they did it anyway! It was okay. The people there were ridiculously slow. It could have used more ingredients and less tortilla.
Keri: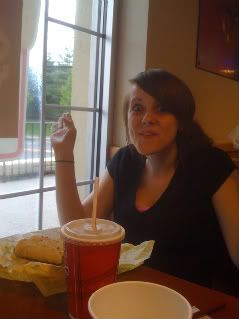 One Chalupa beans no meat and Baja sauce pleaseeee. My classic order at taco bell. We ventured out to a taco bell I'd never experienced before and once again I was not let down. The Baja sauce had just the right amount of zest and the root beer tasted even better being drank out of a black penis straw compliments of romantic depot. a+!
Melissa: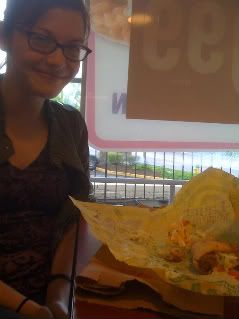 I'm a lover of taco bell and an avid customer, this trip has opened my eyes up to the world of the Chalupa. beef, tomatoes, Baja sauce, lettuce, cheese, crispy pita like shell- one of the best flavor combination's I've been introduced to in a while. However, the icing on the top of this cake was the trip to romantic depot before time
Sam:
Recently, Taco Bell stepped up there game adding an "under a dollar menu" which consists of many choices. My personal favorite is the Seven Layer Nachos. Only $.99, the nachos are a light and refreshing snack with sour cream, guacamole, tomatoes, and beans. What could beat that? Yo quiero Taco Bell.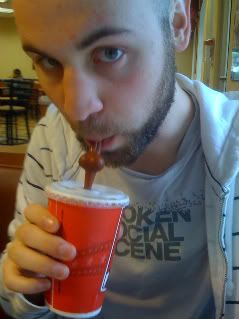 p.s- That really is a BLACK PENIS straw. Makes any liquid taste that much better.
A brief background of Taco Bell, compliments of Wikipedia:
"According to company sources, Taco Bell serves tacos, burritos, signature Quesadillas, Grilled Stuft Burritos, nachos, and other specialty items such as the Crunchwrap Supreme, in addition to a wide variety of Big Bell Value Menu items. Taco Bell serves more than 2 billion consumers each year in more than 5,800 restaurants in the U.S. More than 80 percent of its restaurants are owned and operated by independent franchisees. There are currently more than 278 restaurants operating in Canada, Guam, Aruba, Dominican Republic, Chile, Costa Rica, Guatemala, Puerto Rico, Ecuador, Asia, Europe."
..and how could i forget?
the lunch krew.