Usually blogs have little lasting effect on my memory. I came across Kitsune about two years ago, and forgot about it, came back to it, forgot about it again. Not only is this blog spectacularly creative in the material it covers, but Bobby Solomon (the creator) fuses both fashion, design, and music together in his stylish and innovative blogging.
Every week he releases a Mixcast featuring different songs his commenters suggest or songs he throws together for a supberb free downloadable mix.
This is volume 29.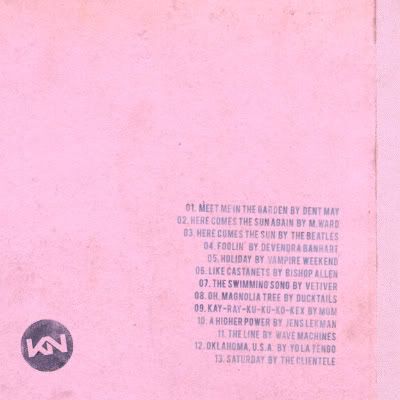 tracklist:
Meet Me in the Garden by Dent May
Here Comes The Sun Again by M.Ward
Here Comes The Sun by The Beatles
Foolin' by Devendra Banhart
Holiday by Vampire Weekend
Like Castanets by Bishop Allen
The Swimming Song by Vetiver
Oh, Magnolia Tree by Ducktails
Kay-Ray-Ku-Ku-Ko-Kex by Múm
A Higher Power by Jens Lekman
The Line by Wave Machines
Oklahoma, U.S.A. by Yo La tengo
Saturday by The Clientele
Download it
Here!
I strongly suggest if you choose one website to get lost in today, pick this one. If you enjoy innovative art and design or want to discover some new jams, this is your website.