The first of march/The first post/
Wish me luck...
This is the band who made me decide to start a blog.
KISS KISS.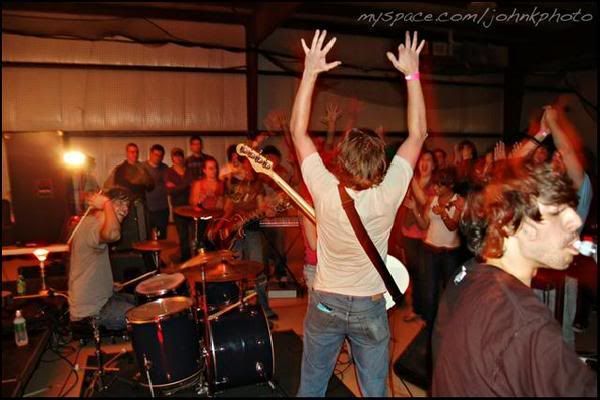 This band is from Purchase NY. They met at SUNY Purchase a few years ago and decided to create lovely meaningful music.
I first heard about this band on the mighty myspace. I used to spend alot of time on Myspace. Thats besides the fact, I was booking a show at the local community center and needed this band to play. They came down performed and wowed everyone in attendance. Even my mom bought an demo. They WOWED us so much, i took them out to dinner. Some of the coolest guys around.
So I could rant and rave about how great and original this band is, but i will give you the honor. Please do yourself a favor and take a listen. I have seen this band almost five times now, and have yet to be dissapointed.
take a listen!
Machines
http://www.sendspace.com/file/0m30vc
Vagabond
http://www.sendspace.com/file/nus4x9
(if you want to be illegal, you can click on the link that will send you to a page where you can download the song)
or just check out the myspace. www.myspace.com/kisskiss
sorry about the sloppyness i hope to learn the ways of the bloging world very shortly.
They have toured around the country a few times and are currently doing so right now. The band is on an indie label called Eyeball records who add this band to a roster of other crafty musical minds.
Here are some tour dates:
Mar 2 2007 10:00P
CHUGGERS West Seneca, New York
Mar 3 2007 7:45P
Sun Gins Grove City, Pennsylvania
Mar 4 2007 7:00P
Wired Cafe Evansville, Indiana
Mar 6 2007 7:30P
THE FIREHOUSE North Manchester, Indiana
Mar 9 2007 9:00P
807 Pearl Street Ypsilanti, Michigan
Mar 10 2007 8:00P
The Living Room Mt. Vernon, Illinois
Mar 11 2007 8:00P
The Treehouse Little Rock, Arkansas
Mar 16 2007 8:00P
SXSW SHOWCASE @ Redrum Austin, Texas
Mar 19 2007 8:00P
TBA New Orleans, Louisiana
Mar 20 2007 8:00P
TBA Oxford, Mississippi
Mar 22 2007 9:00P
Cell Block Mobile, Alabama
Mar 23 2007 8:00P
Bakers Music Entertainment Cullman, Alabama
Mar 24 2007 7:30P
Swayze's Marietta, Georgia
Mar 26 2007 8:00P
Spazzatorium Galleria Greenville, North Carolina
Mar 30 2007 8:00P
Sacred Grounds Fallsington, Pennsylvania
Mar 31 2007 3:00P
Vintage Lounge Levittown, New York
Apr 21 2007 12:00P
SKATE OR DIE FESTIVAL @ Small Empire Skatepark Flanders, New Jersey
ill be back soon.